Flower delivery to: Leicester,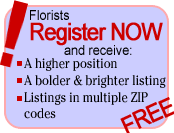 Unregistered Florists
These florists have not registered with Petals Network, and have no relationship with Petals either expressed or implied. We provide their details as part of our comprehensive service listing the majority of florists in the country. However their quality and availability are not known to us. Florists listed higher up the page have either confirmed their details or are members of Petals. If you don't know who to choose don't worry,
Click Here
and Petals will choose a quality florist for you
Flowercraft(4942)
Address:14 CANK ST LEICESTER
Ph:01162621600
Creative Flowers(4941)
Address:7 ST MARTINS LEICESTER
Ph:01162625511
The Flower Basket(4940)
Address:5 EAST BOND ST LEICESTER
Ph:01162621095
Roy Vickers(4944)
Address:177-179 GRANBY ST LEICESTER
Ph:01162555333
These are local suppliers and can usually deliver flowers on the same day on week days if the order is placed early in the day. Click on the left-hand side menu for our full range of flower delivery options. We also have a wide range of suppliers who can send gifts to this area on 1-3 days notice. (click to view)
Product Key:
Soft Toys
Chocolates
Balloons
Alcohol
Weddings
Plants
Gourmet Hampers
Events/Functions

= Merchant in local postcode. However all merchants listed here can deliver to this post code.
Suppliers shown on this page can deliver flowers to Leicester, any weekday. See the left hand side menus for more choice.
templates/directory/DirectListxx.htm