Flower delivery to: Doral Branch, Doral, Air Mail Facility, Miami,


Just Flowers - Send Flowers from JustFlowers.com to Miami 33122- We have beautiful flowers available for same day florist flower delivery. Send Flowers and gifts at Just Flowers dot com to Miami 33122.

USAFlorist.com
- Your Source for Flowers and Gifts Delivered for Same Day Delivery USAFlorist.com offers beautiful delivery of Bouquets, Gifts, Gourmet Baskets, Plants, Gift Basket, and Fresh Flowers delivered same day to Miami.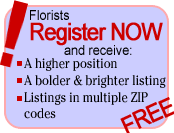 Unregistered Florists
These florists have not registered with Petals Network, and have no relationship with Petals either expressed or implied. We provide their details as part of our comprehensive service listing the majority of florists in the country. However their quality and availability are not known to us. Florists listed higher up the page have either confirmed their details or are members of Petals. If you don't know who to choose don't worry,
Click Here
and Petals will choose a quality florist for you
Premier Floral Importers Inc(13596)
Address:3555 NW 82ND AVE MIAMI
Ph:3055944468
800 Flowers Inc(13613)
Address:8200 NW 30TH TER MIAMI
Ph:3059947760
Hallmark Flowers Inc(13612)
Address:8200 NW 27TH ST MIAMI
Ph:3055928263
Prismal Flowers Llc(13603)
Address:2605 NW 75TH AVE MIAMI
Ph:3055911171
Feel Flowers By Gio Vidal Inc(13600)
Address:3248 NW 72ND AVE MIAMI
Ph:3054716100
Terra Flowers Llc(13595)
Address:2600 NW 79TH AVE FL 1 MIAMI
Ph:3055923377
Afx American Floral Excha(13605)
Address:2289 NW 82ND AVE MIAMI
Ph:3055914449
Glacier Gardens Llc(13608)
Address:7971 NW 21ST ST MIAMI
Ph:3054369494
Floral Designs Inc(13606)
Address:2291 NW 82ND AVE MIAMI
Ph:3054775008
Castaldi Floral Group Inc(13599)
Address:7381 NW 35TH ST MIAMI
Ph:3055134546
Floral Service Group Inc(13601)
Address:2550 NW 72ND AVE STE 303 MIAMI
Ph:3055138400
Gemini Floral Partners Llc(13607)
Address:2119 NW 79TH AVE MIAMI
Ph:3055911079
Flower Kingdom(13598)
Address:3440 NW 73RD AVE MIAMI
Ph:3055910114
Flor Expo Llc(13610)
Address:2003 NW 70TH AVE MIAMI
Ph:3054777067
Flowers Exotic Garden(13604)
Address:2226 NW 82ND AVE MIAMI
Ph:3055979414
Exotropicals Flowers Inc(13597)
Address:3440 NW 73RD AVE MIAMI
Ph:3054709488
International Flower Exchange(13602)
Address:2980 NW 74TH AVE MIAMI
Ph:3055944954
J R Flowers And Gifts(13609)
Address:7242 NW 25TH ST MIAMI
Ph:3054777927
Rose Planet(13611)
Address:2009 NW 70TH AVE STE E MIAMI
Ph:3055138552
These are local suppliers and can usually deliver flowers on the same day on week days if the order is placed early in the day. Click on the left-hand side menu for our full range of flower delivery options. We also have a wide range of suppliers who can send gifts to this area on 1-3 days notice. (click to view)
Product Key:
Soft Toys
Chocolates
Balloons
Alcohol
Weddings
Plants
Gourmet Hampers
Events/Functions

= Merchant in local postcode. However all merchants listed here can deliver to this post code.
Suppliers shown on this page can deliver flowers to Doral Branch, Doral, Air Mail Facility, Miami, any weekday. See the left hand side menus for more choice.
templates/directory/DirectListxx.htm